Welcome to summer!
Highway Superintedent Chuck Stiffler asked that you all be notified that stonetopping will begin on July 14, 2020 (weather permitting). Scheduled for work are Gibbons Road (from end-to-end) and Eichybush Road (from the top of the curvy hills) to the southern Kinderhook/Stuyvesant Town line. Please be prepared for slow travel or take alternate routes.
With the nice weather we like that people are enjoying the water front areas that we are blessed to have in Stuyvsant. These include the riverfront (at the Landing, at Ferry Road, and at Ice House Road) as well as the Sandbar in Stuyvesant Falls. We ask that you leave the areas better than you found them. We want to encourage you to come and picnic and enjoy the scenery but please take your trash when you leave. We are experiencing problems with garbage being left at these areas. Thank you for your assistance in keeping Stuyvesant clean and beautiful.
The Town Hall hours for the summer have been modified and all offices are closed on Saturdays through Labor Day weekend.
The Historic Stuyvesant Day picnic will be held at the Stuyvesant Landing Playground pavilion on Saturday, August 8th at 12:00 Noon. The Town will provide hamburgers, hot dogs, and beverages. In previous years, we have asked for dishes to share. However, with COVID restrictions and concerns, we are asking that you bring sides just for your family to enjoy. Town Historian Juanita Knott is putting together an interesting timeline of the 2020 COVID-19 Pandemic with local stories, these will available to attendees.
In case you missed it: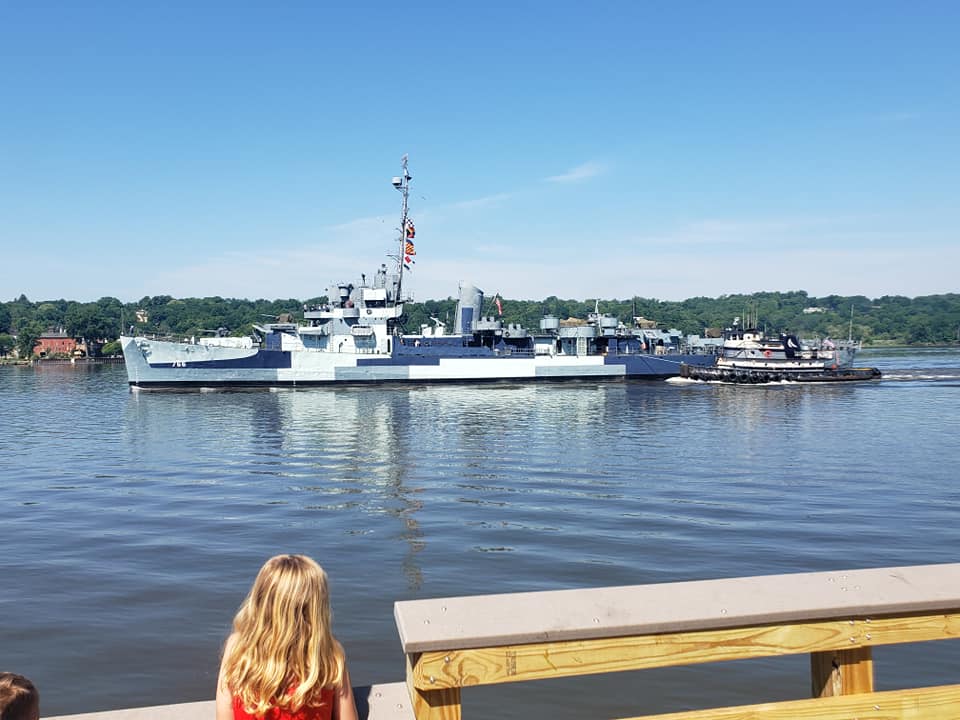 This is the USS Slater as it passed by Ferry Road on Sunday, 7/5/2020 on its way from Albany to NYC for repairs. (Photo Credit: Ron Knott).
Enjoy the beautiful weather we are having and stay cool.
Sent 7/7/2020